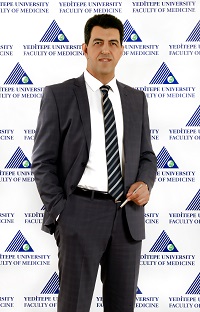 DEAN'S MESSAGE
Yeditepe University Faculty of Medicine (YUFM) is the first Foundation University Faculty of Medicine that accepted students in 1996-1997 academic year. Except the preparatory class, the duration of the education that is thought in English from the very first day, is 6 years. Since 2002, our faculty has graduated a total of 860 medical doctors. Currently there are almost 555 enrolled students, as well as a total of 154 teaching staff, of which 120 are full-time and 34 are part time, and 20 research assistants in the faculty.
Integrated medical education system is followed in our faculty during the first 2 phases, after which the phase three follows in which the related pathologies of the systems that have been taught in the first two phases, become the main focus. The students who successfully complete the compulsory clinical clerkships during their fourth and fifth years continue to their sixth year as an intern, and at the end of this period, they graduate with the title of "Medical Doctor". Since the introduction of general repetition courses from the fifth year onwards, the success of our graduates in the Examination for Specialty in Medicine (Tipta Uzmanlik Sinavi (TUS)), which is held twice a year, have significantly increased.
The aim of our educational program is to educate and graduate physicians who know health problems in Turkey and the world and are equipped with sufficient knowledge, skills and attitudes to perform health service delivery and management in primary health care, know, oversee and implement the ethical rules of the profession, are open to up-to-date information at a national and international level, have the ability to think systematically, investigate and question, constantly improve and renew themselves, are capable of team work, are good at using the technology in medical science and related fields, as well as have effective communication skills, and community leader qualities.
Yeditepe University Faculty of Medicine is among the first in all accreditation systems and plays a leading role in order to guarantee to achieve the abovementioned aims of the educational program. Our hospital system became the first university hospital system with its all units that is accredited by the Joint Commission International (JCI) with Academic Research Hospital in 2007. The same success has been repeated in 2010 and 2014, showing that it was of no coincidence. The Medical Education program that trains the future physicians is also one of the three Faculties of Medicine at Foundation Universities with National Medical Education Accreditation. As the Board of National Medical Education Accreditation is recognized by World Federation of Medical Education (WFME), our graduates of YUFM have the opportunity to pursue their careers in any of the countries around the world.  
The high quality of the medical education given by the leading field specialist academicians in our clinical environments which are equipped with the most advanced technology and the most advanced diagnosis and treatment methods available, is a guarantee for tomorrow's physicians.